Founded in 1989 by Conley and A.M. Dockery, CACO, Inc. Window Fashions started out as a modest mini blind fabricator. Over the past 30 years we have grown from those humble beginnings to become a manufacturer of a large variety of custom products including Roller Shades, Wood and Faux Wood Blinds, Shutters and of course Mini Blinds. Even as our product line has expanded it has been our goal to produce a quality product at a fair price.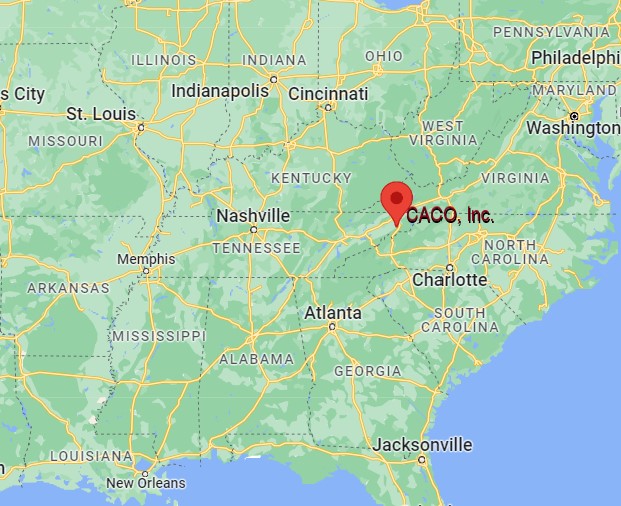 Our Location: Nestled in the mountains of northeast Tennessee, our centralized location in Johnson City has quick access to several interstates allowing us to provide 1 to 2 day delivery times to a large portion of the US.
Manufactured Products: All products we manufacture are made in the USA and produced in our facilities in Johnson City, TN
Serenity Roller Shades, available in large range of screen, blackout and sheer patterns with manual, motorized or cordless controls all built with Rollease componentry.
Avalon Faux Wood Blinds provide you with the look of wood but are a more durable and cost-effective product.
Delta Woods provide the natural warmth with the classic elegance of wood blinds.
Mini Blinds, available in two headrail sizes and a multitude of colors, are suitable for both contract and retail applications.
Allview Shutters is a hollow core poly shutter available in two PVC colors and produced in two weeks or less.
Stock or Distributor Items:
Cordless Fast Faux Wood, our stock faux wood product, allows us to provide the look of our custom faux wood blind with a much quicker delivery time.
Designer Natural Woven Woods are produced using traditional looms and natural materials to create the traditional look of woven wood shades
Boone Cellular Shades provide the classic look of honeycomb shades in a large range of fashion colors.
Dual Sheer Shades also know as zebra shades provide a unique shade/horizontal blind look.
Sheerview Sheer Shades are designed with floating fabric vane between to fabric sheers
Elegant Shutters our additional shutter program when a project does not fit the Allview Shutter program.