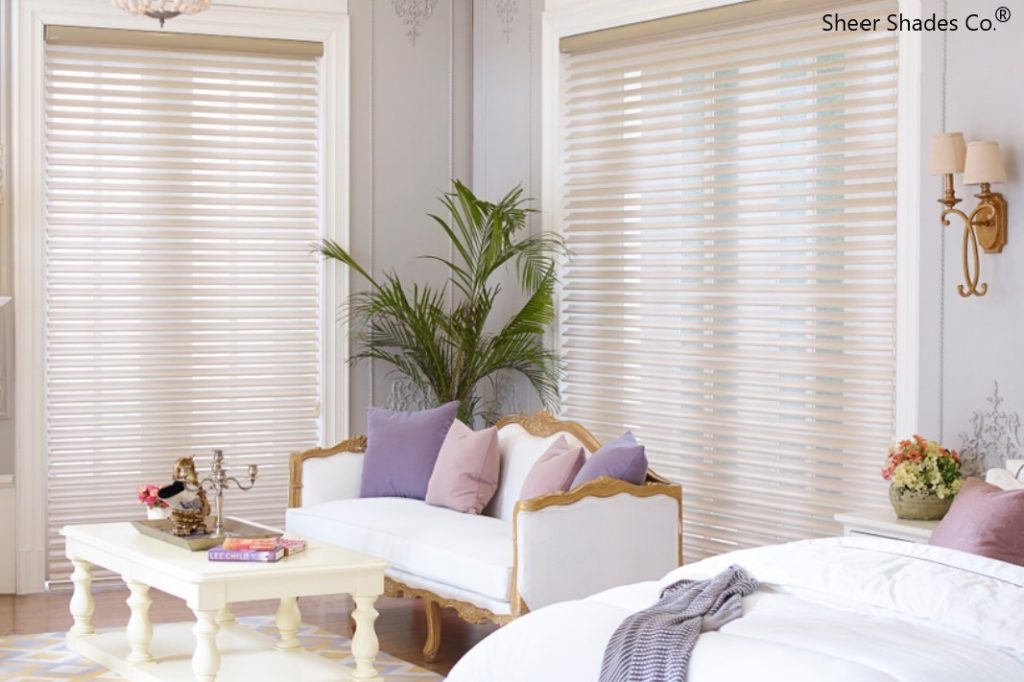 Our new Sheerview Shades are the perfect blend of innovation and light control. This popular shade, elegantly allows you to filter UV with its sheer fabric or provide the perfect amount of mute light and privacy by simply rotate the vanes closed. This high quality product is superior in the industry with tighter vane closure and minimal side gaps which contribute to our enhanced level of room darkening and privacy. This shade can be raised up into it's compact head rail to provide an unobstructed view or to simply make it easier to clean your windows.
Features
Fully integrated, compact headrail that is manufactured with color coordinated aluminum and has matching fabric inserted for a designer look.
Horizontal color fabric vanes float between two soft color coordinated fabric sheers that allow you to soften your outside view or close for privacy
Available in a large range of soft fashionable colors with light filtering or room darkening options.
Choice of three vane widths – 2″, 2.5″ and 3″
Control options include standard cord loop, cordless and motorized
Easy to install One Clip Brackets with shims to level shades when windows are uneven
Integrated stoppers that prevent the bottom rail from looping in the headrail when the shade is full raised
Improved bottom rail to to reduce light gap when shade is fully lowered.
Easily adjustable counterweight bottom rail to keep sheer shade level
Vane Features
Open Vanes

Sheerview shades gentle vane shape appears to float between two sheers.
 
*Sheerview shades in the open position allows filtered light into the room with an elegant look.
Closed Vanes
Our light filtering fabric radiates soft color with just the right amount of defused light into the room.
 
Our room darkening fabric combined with a improved design provides better vane closure for enhanced light control and privacy.
Patterns
Motorization
Standard Shade Operation
The Sheerview Horizontal Sheer Shades feature the Continuous Cord System. This system provides the ability to manipulate the shading into various viewing positions. From the closed and retracted position (fabric inside the headrail), lower the fabric by pulling down on the rear of the loop cord until you reach the desired shading position. Once lowered completely to the window sill, continuing to pull the cord in the same direction will open the horizontal fabric vanes, offering varied views to the outside. Continuing to pull the cord in the same direction will also lift the shading in the view-through mode. To retract the shading, simply pull down on the front of the cord until the shading reaches the desired viewing mode or fabric position.