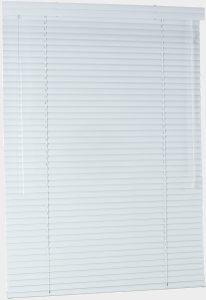 Catalina 8 and 6, 1" aluminum mini blinds incorporate the best features available in the industry today. Catalina's durable 1″ x 1 1/2" steel head rail makes use of our heavy-duty snap in component system designed for reliability. Either one of Catalina's 8 or 6-gauge premium aluminum alloy slats come in flawlessly painted finishes in a wide range of designer colors. Catalina's top slat colors are treated with Dust-protector, an antistatic paint additive to help reduce dust accumulation. Catalina blinds perform effortlessly with a snap-in designed clutch tilter, corrosion resistant steel tape drums and crash-proof safety cord locks with the built in cord separators. Color coordinated plastic components are an added complement. Catalina 8 and 6 blinds are available with several ladder spacing options to accommodate varying budget requirements.
Features:
Durable 1" x 1 1/2" steel head rail
Reliable heavy-duty snap-in component system
8 & 6 gauge high quality aluminum alloy slats
Wide range of designer colors
Color coordinated plastic components
Fully enclosed bottom rail
Lifetime warranty
---
---
CACO, Inc. Window Fashions manufactures and distributes the highest quality blinds. We invite you to contact you nearest authorized CACO, Inc. Window Fashions dealer for in-depth product presentations, color selections for any of our CACO products.