CACO provides tracking numbers for every order on a key location on our invoices. This information can easily be provided by signing up to receive invoices by email. Orders are invoiced the same day they are shipped and invoices are emailed by 5:00 PM EST Monday – Friday. Also for our customers convenience invoices can be emailed to multiple recipients. To sign up for emailed invoices, contact our Customer Service Department for details.
To see exactly how to use your invoice for tracking your order, please review the following pictures and information. Below is a sample of the header of CACO's Invoices
Where to find your tracking information: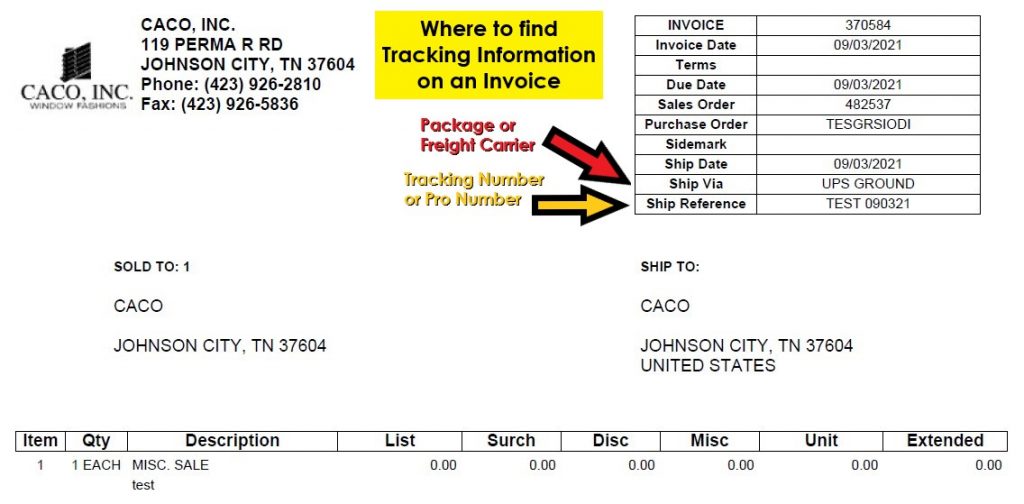 How to track your order:
Open your invoice attachment
Highlight the information in the Ship Reference (tracking number) box.
Copy by using whichever copy function is available on your system, such as Right-click+copy, Ctrl+C, Command+C, etc.
Go the shipper's website listed on the Ship Via box. For a list of CACO's package and freight carriers along with links to website tracking click here.
In the shippers tracking or pro number box paste the tracking number using whichever pase function is available on your system, such as Right-click+Paste, Ctrl+V, Command+V, etc.
Click Track to complete your search.